2018 year of the earth dog
30-Dec-2017
2018 Year of the EARTH DOG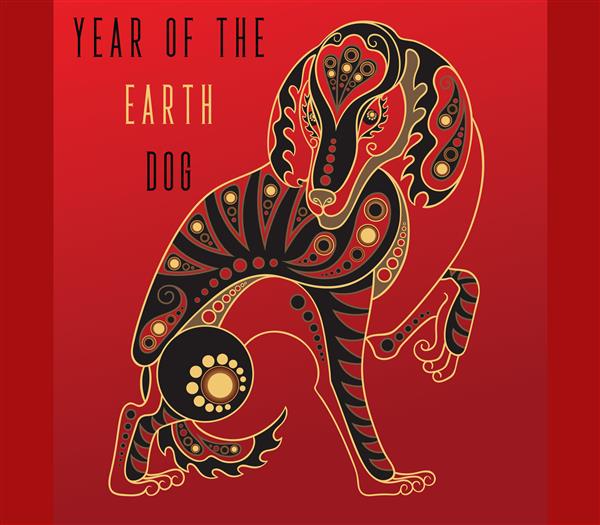 PLEASE SUBSCRIBE TO THE NEW EMAIL LIST BELOW! If you fail to do so then you will no longer receive updates from me about anything as I am culling down to those who are interested in what I can contribute.
I have spent most of 2017 in deep reflection and contemplation. Opportunities to review my practices and where I want to go for the next 20 years have been forming and reforming. It is very apparent that 2017 saw way too many words spilled into the universe with little accountability and little reflection on the consequences of one's utterance.
I have been watching and learning this year. I have NEVER come across a year that has such universally declaimed difficulties. Even if you are not a rabbit or have a rabbit prominently placed in your chart you have experienced challenges. It has brought me to thinking about what do we do when all around us are in a state of panic? I don't have any glib, slick or superficial answers other than to say I have decided to not write as much about anything! There might be a little novel brewing around in my belly somewhere but that's for a future year(s).
One of the decisions I made in the middle of the year was to quit all social media platforms. They are not accountable, they become harmful habits and there is too much said contributing to the NOISE in the world. I only use Linked In to keep in contact with other business people in Tasmania and other Feng Shui peers.
I am winding back my feng shui practice too! I will remain on sabbatical until March of 2018 whilst I wind back all the things I've written over the years, all the videos, e-books and recordings I have done will also be removed from the site over the coming months. All the products are either reduced or at bargain basement prices now but ALL the e-commerce will be removed from the site as of January 31st. This is in line with simplifying and stream-lining what I do, when I do it and what need it fulfils in the fabric of the universe.
If you want to have a one on one follow up for 2018 BOOK in NOW! They will not be available after January 31st!
My website will move to a brochure site with the focus on Tai Chi, Meditation and Stone Mandalas and Feng Shui for current clients ONLY or those who come highly recommended from current clients.
I am also culling the newsletter list so am asking you to migrate over to the new list by actively subscribing to the newsletter below. If you don't do it then you will not get anymore communication from me ... and that would be sad.
Workshop specials
I will not do personal astrology charts for 2018 unless you specially book in for it BUT if you book into the workshop I will go over your personal Nobleman and Special Stars and you can note down the hours, days and months that are beneficial for you - this will ONLY be available at the workshop.
There will only be one workshop, but you can Skype in to it (depending on how many people choose that option I might have to schedule another to accommodate every one).
I seek him/her here, I seek him/her there ...
I know that there is one person out there who will become my apprentice and I will share all that I know with that person! I will be doing NO teaching of Feng Shui or Astrology outside of that! The person will have to be dedicated and committed and be willing to walk with me on the land OR come to Tasmania periodically to learn - it is the only way I will operate from now onwards.
---
Workshops for January
One only in 2018 - my home in Collinsvale
Lets talk about the year of the earth dog Do you want to know what the year of the earth dog has in store for you and your family or employees? ..
Places Available: 2
The Earth Dog
This year will be a much milder and considerate year. We will see earth sitting over earth. It will test faith and trust and teach us these qualities if we are willing to learn. If we remain determined to chart our own course (there is great merit in this) then we have to accept that we are responsible for EVERYTHING that happens to and with us. When one (me / I) am involved then it is our responsibility even the unpleasant and unattractive things that happen. As only I can transcend adversity, I am therefore responsible for what I observe, initiate or react to. This is truly the test of equanimity, which is not just cultivated sitting at someone's feet but in the 3 dimensional world with all its beauty and ugliness; its joys and sorrows; its open pathways and its obstacles. If we don't shrink from the lesson / opportunities we grow in our depth and roundness as human beings.
Suspend judgement until all the data is in and even then, wait a while longer for the true wisdom to be revealed. It is a good year for taking counsel and getting a diverse range of opinions. Don't however cast the net too widely as you will paralyse yourself with too many opinions.
Fei Kong year
It will be what is called a Fei Kong year - this is a very decisive and strong, powerful year. The Fei Kong people will rise to the surface and will, for good or bad, direct the affairs of the citizens. If there are more that one leader in the parliament or in the organisation who has a Fei Kong chart OR has 1 Fei Kong star in their chart, they will be compelled to act, AND they will come into collision with the others. They will fight to the death or until they are forcibly removed from power. Read More here in the blog post about Sha Chi
Tony Abbott is a Fei Kong man so he may seek to come back next year.
Queen Elizabeth of United Kingdom is a Fei Kong lady.
Hilary Clinton has a Fei Kong month so 2018 will see a 2nd Fei Kong join her to make her more powerful!
IM Pei (the designer of the Louvre extension) has a Fei Kong Day pillar and will benefit in 2018 making him even more powerful BUT he was born 1917 so there is only so much power a centenarian can take.
Uri Geller will be in the news again in 2018.
Stephen Fry will have a very interesting year in 2018.
Christian Porter (the minister for Social Services) is a true Fei Kong person and he has just been appointed to one of the most powerful positions in our democracy - that of Attorney General.
Arthur Sinodinos is also a Fei Kong Day Master who will benefit from the Fei Kong year - to hopefully overcome the cancer that he was diagnosed with in 2017.
Donald Trump jnr is also a Fei Kong Day Master so things should be interesting for him in 2018 from early February if he escapes prosecution in 2017 and there is not much left of that year (although don't forget that the Rooster does not finally depart until Feb 4th of 2018 (using the solar calendar).
industries in focus
The focus is on real estate and less on pseudo currency, money markets and share markets. Things associated with property and land will make solid gains. Those industries which are supported by earth such as metal will prosper. There is also great profits in water related industries such as wine, spas, transport, philosophy and pedagogical teaching (not the mere transmission of knowledge and skill). Water and wave energy generating systems will also prosper - in Tasmania that means the generation of hydro power will prosper.
Entertainment and media will not prosper as much with probably more to be revealed in terms of scandals and inappropriate behaviour, especially where beauty pageants, contests and such are concerned.
world events
Water will be trapped in earth. This means mud slides and dams bursting their banks particularly in the month of the dragon, monkey and rat - April, August and December.
Some Earth Dogs
I will not explore their charts but merely list some of them for your interest - or to be truthful - my interest.
Madonna - singer / performer 16th August 1958;
Tim Burton - Movie Director 25th August 1958;
Peter Capaldi - British actor and most recent Dr Who;
Neil de Grasse Tyson - physicist and science presenter 5th October - he has a Fei Kong Day Master with a 2nd Fei Kong on Year;
Joan Jett - lead singer of - put another dime on the jukebox fame;
Andrea Boccelli - Italian light tenor;
Ellen Ochoa - American Astronaut;
Prince Albert of Monaco;
Steve Case - co-founder and CEO of America on Line;
Michael Flatley - of Riverdance fame
Karen Pence - wife of Vice-President of USA
---
60 Years Ago
This will only be available through the workshop in January.
If you want to do your own research then this is a site I use to scrape relevant things that we can draw from.
---
2018 Annual Flying Star
Flying Star 2018
You can see that the positive pink energies are coming from and to the centre; south east; south west; north west.
The negative energies are in the north (double negative); north east (very strong); east; west - this is very fiery energy - if you have your main door here then make sure you have checked you electrical systems and keep control of your passions as it will damage your eyes; lungs and large intestine meridian.
Make sure you keep your passions in check and eat according to the location and seasons.
If you main door is in the north, north east, or west then watch out for food poisoning and liver related disorders.
There is a very positive star in the centre which contributes to joyful events - weddings, parties, celebrations and wellbeing. Keep the faith.
what to do
North - avoid having your main door here (use a secondary door for 2018), and DO NOT put your head on a north wall this year, particularly or especially if the bedroom is in the north too - change rooms!!!! And DON'T argue with me - :-). No there is nothing you can do to ameliorate this energy it has a double whammy which is severe.
North East - this star is useable but don't tempt fates if you have any sha chi coming to a door or window in this direction. If you run a legal practice then this is a good location for you. The rest of us need to ensure that we don't tempt the litigation fairy!
East - this will be tricky as the 7 that falls in this location in 2018 will torment to wood of this gua. Use water to diminish the ... Read more here ...
Remember you can still book your personalised annual update from now until 31st of January.
The sha qi this year comes from the direction of the dog (north west) and strikes the dragon (south east). These are considered do not disturb areas and are called either Tai Sui and Sui Po, or Grand Duke of Jupiter and year breaker. The names are less relevant than their impact. These areas are considered do not disturb areas. That means do not dig, construct or demolish buildings in these directions in 2018. Read more here ...
Are you a Dragon?
2018 is the year of the earth dog. The dog sits opposite the dragon in the magic circle and has a secondary clash with the rooster.
This means that if a dragon, a dog or a rooster feature prominently in your chart, or you are just changing to one of these animals in your luck cycle then you will find this is a seriously karmic year - don't shrink from the lessons, stand up boldly and take it on the chin - find out what sits deep below the situations that will unfold for you. Read more here ...
CALENDAR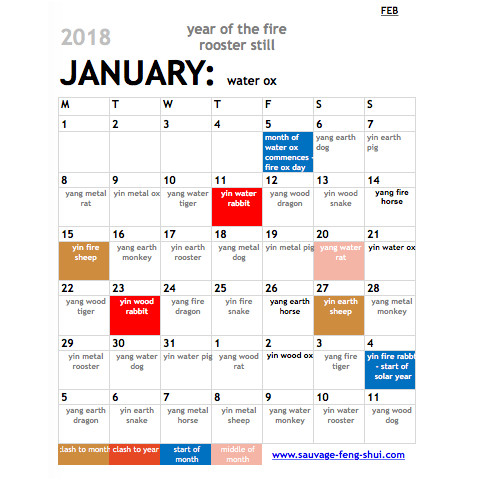 This is a little preview of the lovely calendar I've prepared for you. This way you can keep track of all the days with their English names clearly marked. You can download it, print it out, or keep it electronically. If you print it on both side, laminate the 6 pages then you can bind it and rest it on a plate 'rack' and leave it on your desk for ease of use.
Each of the beginning of the month, the middle of the month and the clashes to the month and the year are marked too. it is the first time I've prepared this calendar and will replace the monthly clashes and benefits as it takes me a very long time to prepare.
If you join the workshop you will get a free copy with the workshop.
I know a few of you are very keen to get as much information as you possibly can about the forthcoming year.
I have some recommendations for you to read if you find that what I write is insufficient for your needs. PLEASE DO NOT READ TOO MUCH AS YOU WILL FIND CONTRADICTIONS AND NOT ALL OILS IS OILS!
Laurent Langlais - he writes prolifically and can have too much detail for many people but a very solid student of Feng Shui
Henriette Driessens - she has been in the game a little less time than me but her knowledge is solid and she writes in a very easy to understand manner
Edgar Lok Tin - is a 2nd generation feng schui master and great bloke!
All these people are my friends and people who's skills and knowledge I can vouch for. We share some teachers in common.
Be aware some people out there also come from a society or a personal culture of scaring the horses - don't just shop around indiscriminately.
In addition don't go searching for how does the dragon fare in the year of the dog or how does the horse fare in the year of the dog - this is like just using a western horoscope to look up Aires or Cancer and taking that as pertaining to you - it is only general information and many times not even information. You need to look at your entire chart to get an idea of how you will travel in 2018 AND of course there is always room to make decisions in any of these theoretically predictive systems. Nothing is written in stone.
I am culling the old mailing list as it has a large proportion of inactive users I would be grateful if you migrate across to this new mailing list. You will get notifications of both Tai Chi, Chi Gong and Meditation courses as well as matters Feng Shui as I move towards my new practice and way of being in the world. This applies to both Feng Shui and Tai Chi clients and interested people.
If you chose to drop out of contact that is fine and I thank you from the bottom of my heart for participating and travelling with me for the last 20 years.
Truely, may the force be with you.
---