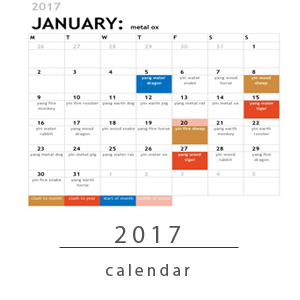 posted by Vicki Sauvage
0 comments
Well here we are half way through the month of the metal ox, in the vanguard of the year of the rooster. The rooster and the ox form a special combination which helps provide impetus for the rooster to come through early.
Globally we see that Mr Trump will be sworn in as the next President of the United States of America. We will wait to see what the rooster and the ox do to his reputation and his competence - in the past he has disliked intensely the rooster and it has led to significant challenges to his financial resources and his standing in the community. The demi-scandals already assail him but so far he has tweeted away any discomfort or challenge. He will only be as teflon-coated as his team standing behind him. He has habitually fallen out with comrades-at-arms and it is unrealistic to expect this leopard to change his spots / coat. I do still believe he is not a well man and that he will maybe not make it through a full term - time will tell if my reading is accurate.
Malcolm Turnbull has opted for a minimalist approach to changes in his leadership team as the Susan Ley scandal unfolded. He appears to have only re-arranged 2 deck chairs in the front row. Let us wait and see what the rest of the 'broad church' that they refer to constantly decides to do with their rebuffs. If you want to read a little more about the impact of the fire rooster on Turnbull's team then read my annual article here.
I wrote 5 articles for you for the year of the rooster and you can see all the links to them in the newsletter here.
In addition I have decided to start podcasting - this helps offset some of the challenges of the rooster - when we speak aligned with spirit, not our egos, we can contribute to the accumulation of wisdom and well-being of the planet. I am lining up a few guests for the coming months - I am hoping to do it on a monthly basis and when it is more mature I will put it up on iTunes. Here is the link to the 1st podcast for 2017. I am thinking of calling the series The Metaphysician! What do you think? I might have to search around to find out if that name is already taken.
Have a good year and don't forget to watch what you say in 2017 - bear witness and be a truth speaker not a gossip.