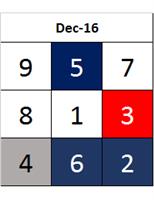 posted by Vicki Sauvage
0 comments
December 2017 is the Metal Rat Month.
There are 9 directions including the centre.
The chi rotates through these 9 palaces in a predictable way, but it has 2 additional layers of interpretation.
the gua or palace it lands in
the annual star that is hosted in that gua
This gives 3 possible interactions which will bring greater or lesser benefits to individuals.
North:

7 / 6

in Kan Gua which has the qi of water
Treatment: both are metal - yin and yang landing in the water gua - use water to exhaust as we don't want conflict
North East:

5 / 4

in Gen Gua which is earth - the mountain
Treatment:
earth and wood are not friendly. Use fire and metal to remedy this. Don't use a door located here if you have an option. Move bedrooms if it located here and you have an option. Otherwise refresh and renew the salt water cure and add some active metal.
East: 9 / 8 in Zhuen Gua which is wood.
Treatment:
The wood needs to be burned with fire. Give it a great big red boost this month. Use the door where possible, open the windows and welcome in this qi.
South East: 1 / 9 in Sun Gua which is wood
Treatment:
this is a very favourable direction and location this month. Again welcome it with activity and allowing the qi to enter the building
South: 6 / 5 in Li Gua which is fire
Treatment:
use metal - both active metal and passive metal.
South West: 8 / 7 in Kun Gua which is earth
Treatment:
water - small symbolic water or quiet water
West: 4 / 3 in Dui Gua which is metal
Treatment:
fire to burn off the yin and yang conflicting wood
North West: 3 / 2 in Qian Gua which is metal
Treatment:
use active metal including the salt water cure - don't use this door if you have an option. If you don't have an option then make sure that you do a daily blessing over the door, the house and the inhabitants.
Centre: 2 / 1 this is the palace from which all emanates.
Treatment: use plus plus plus. You can remove some of the active metal and salt water cures now in preparation for the shift of annual energies.