20-Jul-2014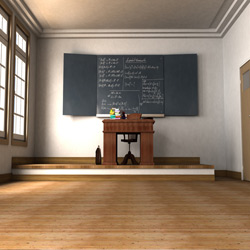 You are here because you want to help transform your classroom or seminar venue.
Synopsis
Vicki was commissioned to write this book by Adele Sims of WriteInk. Adele had been an educator for over 20 years working with some of students with the most challenging behaviours. She was talking with Vicki one day and said do you think that bad Feng Shui might have an impact on learning of students?
Following a rave from Vicki she commissioned this text which is unique - it shows the link between electro magnetic interference and other energy lines. Between the placement and location of desks, windows, doors and other classroom furniture.
One Chapter is devoted to the interactions between parents, students and teachers.
There are years, months and hours when you are likely to clash with your students if they are born in a particular year and you are born in the clash year.
You know those years the ones when absolutely everything flows so smoothly it renews your commitment to your profession.
You as parents know those times when nothing your kid does ever seems to please the teacher and their grades fall and they become inattentive or just not 'present'.
Well this book helps address some of those challenging times. Of course, good Feng Shui will not transform a student from an under-performer if the other behavioural factors have not been attended to. These include diet, depression, family dysfunction, abuse and neglect.
Seminar venues
Have you ever run a seminar and the participants never or rarely get to rapport with you? They are constantly looking around and being distracted by activities taking place in their peripheral vision? Well there is a chapter devoted to setting up your seminar venue to suit you.
You can look at the table of contents
---