Chinese New Year 2023
21 January 2023
---
2023 Chinese New Year
Today is the start of the Chinese New Year (Saturday 21st of January 2023).
Today those Chinese who still have family in their home village / town / city will return to family to honour their family, their ancestors and their parents.
It is common to sit down to a big family feast, eat traditional foods and give red packets to the children.
If you are invited to a meal and want to know what you can take then here are some hints – it should be round, it could / should be gold or red in colour, it should be money for children but always in a colourful red packet and ONLY if you are a relative. Chocolates wrapped in gold or red paper, oranges, mandarins, gold coins (just joking). There is a popular brand of Chocolate F..... R..... which meets those requirements - not WHITE chocolate though
Within the 3 or 15 days of CNY there are some further auspicious days.
They are:
21st when Lord Nan Bei Dou visits
22nd which is Maitreya's birthday and Yuanshi Tianzun's birthday
25th the deities of the water rabbit year arrive
26th the Wealth God arrives
27th the Clear Water Patriarch's birthday
30th the Jade Emperor's birthday
4th is the start of spring (northern hemisphere) called the awakening of insects. At 10:42 the solar New Year starts.
Placing your Flying Star cures for 2023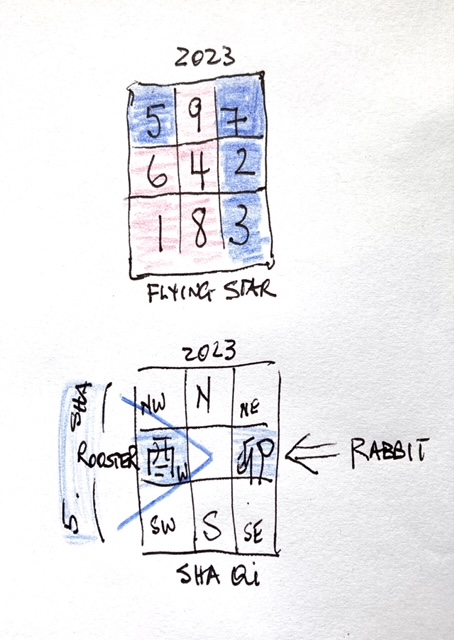 I have chosen the 6th of February at 12 midday as the time to place your new cures for the annual flying stars.
There is another date from the Ming Li Tong Shu that you can use 24th January at 12 midday but only if fire is good for your chart / you as an individual – remember we have not shifted into the Rabbit sign until the Solar Year begins so the Tiger is still the deity of the year till 4th February 2023 at 10:42.
Using the Chinese Astrology software classes
As I've reached my 72nd year (western counting), I have realised I need to teach some of you to fish! If you want to learn I am going to run classes for 4 - 6 weeks.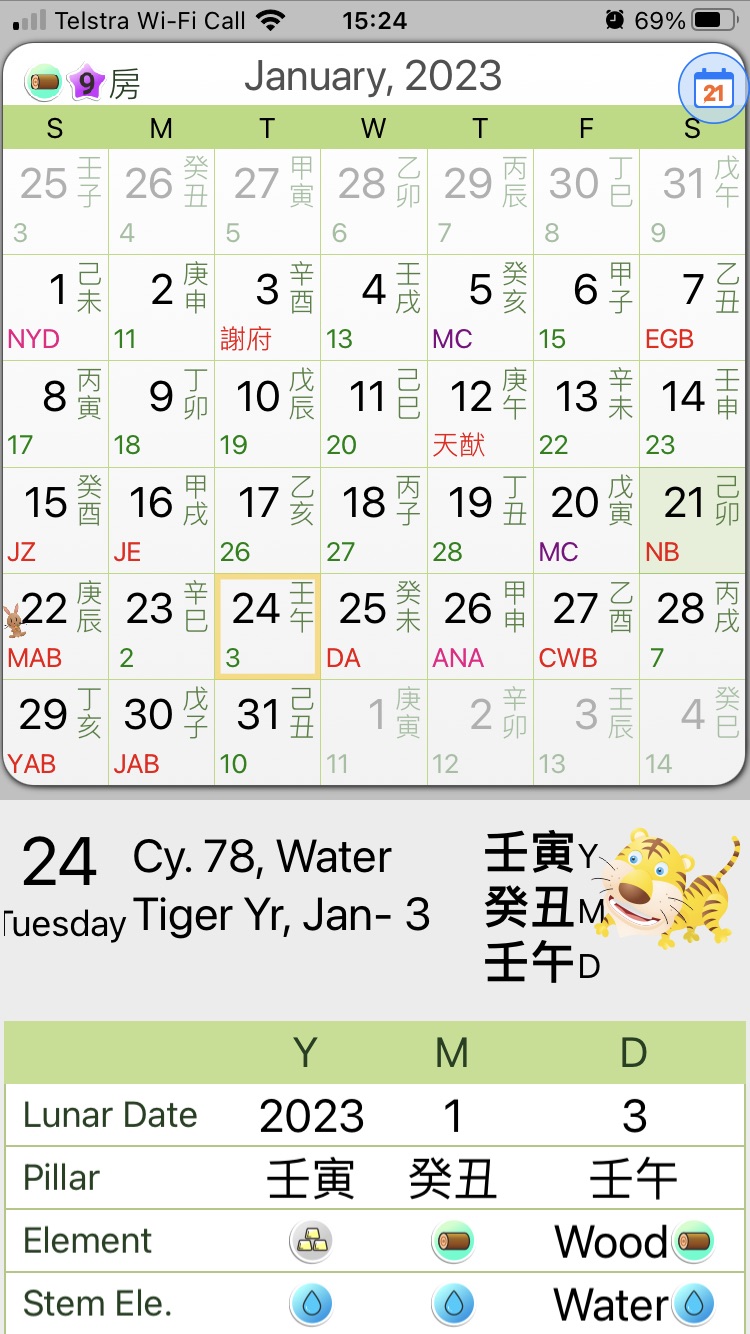 You need to have had your chart done by me or another traditional BaZi astrologer. You should have a record of, or an understanding of your own chart and what your day master is. Also what elements are beneficial to you. Realising that we can't always eat cake, some days, months or years are a challenge.
I will start mid February with about 4 – 6 lessons on how to read the software.
I prefer Chinasoft software from the Apple store – not sure what the android version is.
Drop me an email if you want to join the class. The cost will be $20 per person per lesson. The lessons will be scheduled to run for 1.5 hours.